AI advancements in SharePoint
The challenge of organising, analysing and understanding large amounts of organisational data has always been difficult. Content management systems offer tools to do this, but persuading end users to use them isn't always easy. Updates coming to SharePoint could provide the answer to this longstanding problem.
Over recent years, AI has been a key part of the latest advancements in modern technology. The latest features of SharePoint are no different.
Project Cortex, announced at Microsoft Ignite in November, will use advanced AI to provide insights in SharePoint and other Office 365 applications. It does this by harnessing the data we store in Office 365. Given the large amount of data organisations store in SharePoint via pages, documents and list items, this could have huge benefits for knowledge management.
Some of the key features of Cortex include:
Image and text recognition
Cortex will extract objects and text from images and PDFs, allowing this data to then be automatically tagged to the file.
Forms processing
Cortex is able to analyse forms uploaded to SharePoint and return important information from the form. This metadata can then be attached to the file and also used as part of the Knowledge Network.
Machine Teaching
Previously organisations had to spend large amounts of time, processing unstructured documents to find key information, to then tag documents and organise data. Using machine teaching, they can instead train Cortex to do this, which will then add the information collected to the Knowledge Network.
Topic identification
All of this organisational data is then processed using advanced topic mining logic. Examples of topics could be clients, projects, products or policies. The great news here for developers is that these Knowledge Entities will be accessible via the Microsoft Graph API, meaning applications can be built on top of this powerful processing.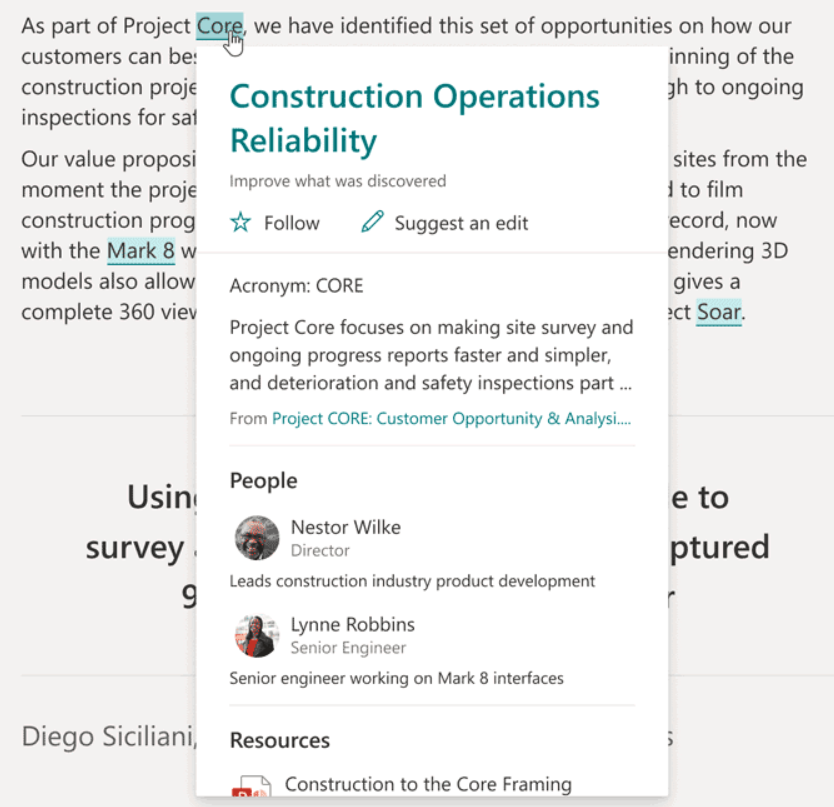 The updated Managed Metadata Service
A welcome advancement will be the updated Managed Metadata Service (MMS), a powerful feature of all versions of SharePoint. MMS will now be used across the Office 365 platform and will play a key part in the Project Cortex experience, storing extracted metadata. Allowing organisations to make sense of their topics.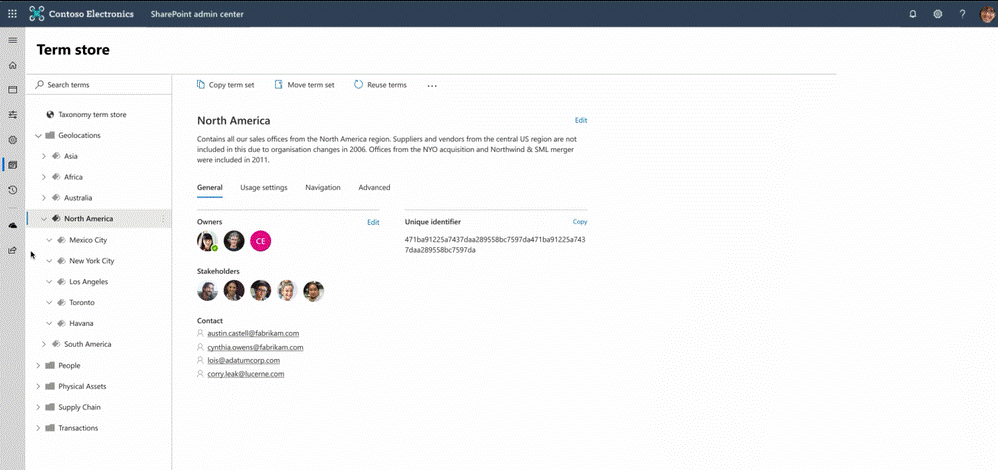 Using reports, users will be able to identify the key metadata terms that are used in their content.
Knowledge Centre
While we know that extracted information could surface as metadata, Microsoft have said that the Knowledge Network will also be displayed in the new Knowledge Centre and Topic pages. Links to these pages will appear throughout Office 365 e.g. people cards.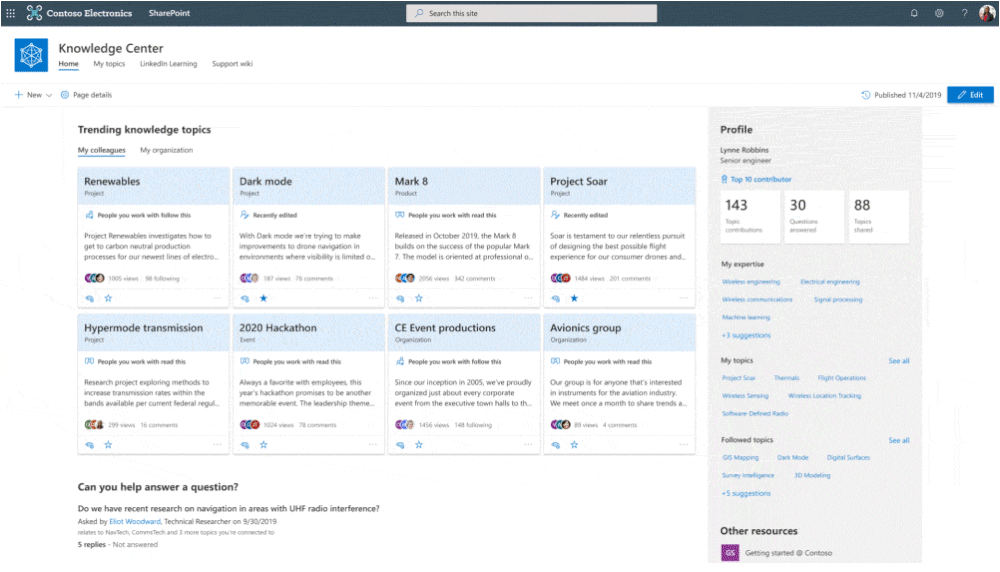 Azure Cognitive Services with SharePoint
While Project Cortex allows us to deploy AI out of the box, custom requirements can be achieved in SharePoint using the Flow for Cognitive Services connector (in a Power Automate flow). For example, analysing text for key phrases, entities, sentiment and language.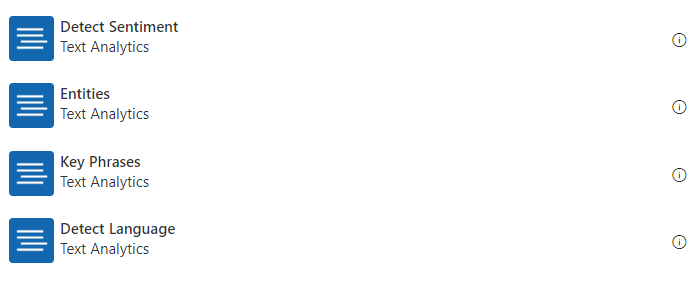 AI capabilities also exist for images via the Computer Vision API, such as analysing images for objects and text. Some of these Flow actions are listed below: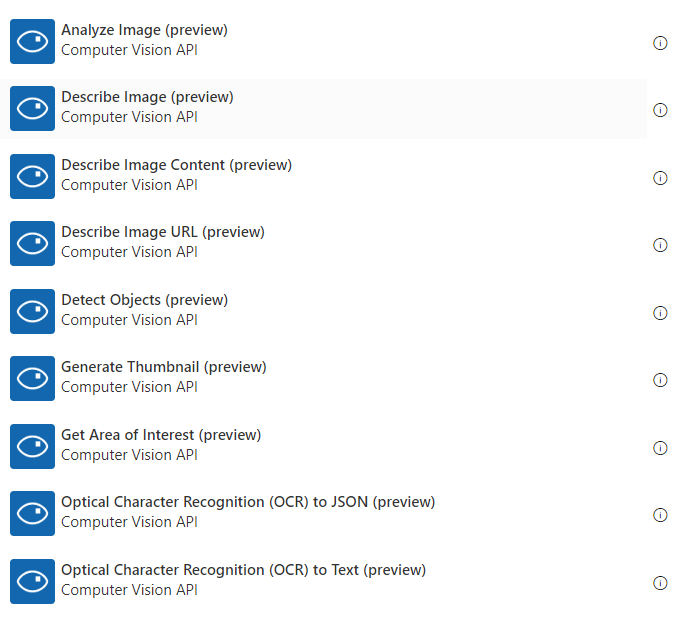 Confidence score
The API provides a confidence score, which allows developers to decide whether the response from the API should be used. This score is between 1 (very confident) and 0 (not confident). An example could be to send an email to a user if the API was unable to return keywords for their document confidently.
Knowledge management going forward
For many organisations, this could be a significant step forward in knowledge management. Project Cortex will be generally available in the first half of 2020.